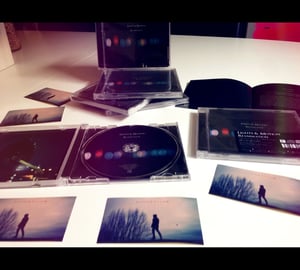 €

10.00
Lights & Motion - Reanimation
(CD)Deep Elm Records/Friend Of Mine Records 2013
Debut album entitled Reanimation from the Swedish Alternative project Lights & Motion. Digitally released 16th January 2013 on Deep Elm Records.
Recording Time: 67 min.
Tracklist:
01. Requiem
02. Home
03. Aerials
04. Drift
05. The March
06. Victory Rose
07. Epilogue
08. Fractured
09. Texas
10. Faded Flourescence
11. Departure
12. Reanimation
13. Dream Away
"Reanimation will be acknowledged as one of the most important post-rock albums ever to be made...and if this was the last album we ever released on Deep Elm Records, I would consider our 18 year mission an overwhelming success" says label founder John Szuch.
"There is no escaping the fact that without these amazing people cheering me along and encouraging me to make this album, it would´t have happened. When you are completely alone with something, be it art, buisness or sports, there is always a certain amount of self-doubt. Sometimes self-doubt can be a good thing, it keeps you sharp and focused, but it can also be crippeling if you are not careful. I have never really considered myself to be very musical, I always stated that it was just practice and nothing more. Coming from that state of mind, it was not easy for me to come to terms with the fact that I should make an album by myself, because surely I cant do that? Well, eventually I came around and decided that I would take this shot at making something that I could stand by, and sucess or not, I had no one to blame but myself. And I am very glad I took that leap because now everyday I get to talk to amazing people that appriciates my music and I am so very humbled by the fact that they take time of their day to really listen to what I have created. That is amazing to me, and nothing I will ever take for granted."
lightsandmotion@hotmail.com
licensing@deepelm.com