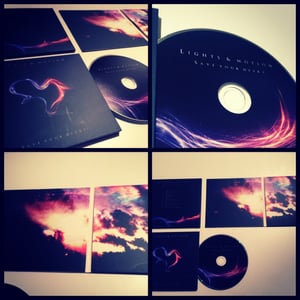 €

10.00
Lights & Motion - Save Your Heart Digipack CD
(CD)Deep Elm Records/Friend Of Mine Records 2013
Second album entitled Save Your Heart from the Swedish Alternative project Lights & Motion. Digitally released 12th November 2013 on Deep Elm Records.
Recording Time: 41 min.
Tracklist:
"Heartbeats" - 5:45
"Ultraviolet" - 2:23
"Sparks" - 4:13
"Shimmer" - 4:05
"Snow" - 6:40
"Bright Eyes" - 3:50
"Crystalline" - 3:59
"Orbit" - 1:48
"We Are Ghosts" - 2:22
"Atlas" - 3:02
"Save Your Heart" - 2:21
"A year in the making and a many lonely nights have crystallized themselves into my new album Save Your Heart. In January, I gathered the courage to release my debut Reanimation and I haven't stopped since. In fact, I've barely left the studio all together. This isn't just music to me. This IS me. This is me doing the thing I love and sharing the things that I am most afraid of. Save Your Heart is about not giving up on those things that make you lose track of time, feel alive and realize there is something that you were born to do. Music is that way for me, and it has always been. At the same time, I know it's easy to give up on your dreams, because it takes courage and plenty of sacrifice. Vision and inspiration demand execution. So this new album isn't just eleven songs gathered in one place. It's my past and my present, it's my confidence and my insecurities, it's my brightest days and my darkest nights. Every day, I do my best not to lose sight of my dreams. On Save Your Heart, I wanted to push the sound of Lights & Motion further out, reaching upwards towards the stratosphere, higher up in the ether of space while daring to be bolder in both statement and style. Save Your Heart takes off where Reanimation left off, yet it retains a familiarity that is the Lights & Motion sound. I'm happy, excited and humbled to be sharing with you what I have been dreaming about lately..."
lightsandmotion@hotmail.com
licensing@deepelm.com